Paclan for nature
We increasingly understand that caring for the environment is our common concern. After all, it's the only home we have. We believe that great changes begin with small steps. That's why we started by changing ourselves – creating disposable household products whose origin is green. You'll find them in our new range – Paclan For Nature. All this so that we can build an #ecohome and take care of the planet together.
Environmentally-friendly household appliances make a difference!
For more than 20 years, we have been helping with cleaning, cooking, baking, and segregating waste. Our products make everyday activities easier and facilitate organising people's activities at home. By creating the range of eco-friendly products named For Nature, we wanted to show that what we use to clean or take out the garbage is of great importance and makes a difference every day. For us, it's a small step, for the planet – another bit that contributes to improving its condition.
"We do care about the environment. As far as possible, we try to act to protect it" – says Paclan Brand Manager Marta Krokowicz."We've been involved in various pro-environmental initiatives for years and we're constantly developing our technology. Now we're strongly focused on offering our customers environmentally friendly products and give them a choice."
For Nature – out of love for nature
The For Nature range consists of 13 household products for cooking, baking, and cleaning, as well as eco-friendly bags for BIP waste. The packaging of the products from the For Nature range is made of waste paper or FSC-certified paper. However, that is not all – for the manufacture of the products, we use
recycled plastics,
natural raw materials – maize, agave, bamboo, and viscose,
used PET bottles,
biodegradable materials – e.g., polylactide (PLA).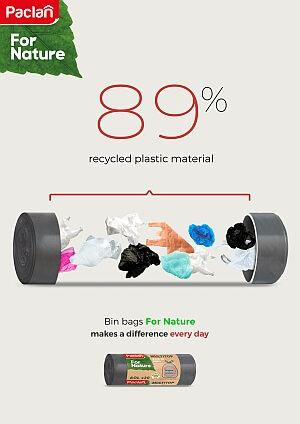 Not only eco-friendly garbage bags… Paclan brings inspiration
Creating a range of eco-friendly home care products isn't the first eco-initiative of the brand, which has been taking care of the environment for many years. Paclan:
Gives plastics a second life – for more than 35 years, it has run Europe's largest recycling centre for plastic packaging. On average, it processes 80,000 tonnes of waste and post-consumer garbage (household waste). Recycled granulate is used at production facilities.
It supports environmental initiatives undertaken by the local community – for example, by educational institutions, associations, and social activists. The assistance consists mainly in donating garbage bags and gloves. As a result of this activity, more than one clean-up action has already been organised in the area.
It runs the pro-environmental campaigns #ecohome and #haveitrecycled, which promote waste segregation and encourage people not to waste food as well as take care of their homes in a nature-friendly way.
It takes care of animals by looking after a couple of Indian rhinos, Marushka and Manas, living in the Wrocław zoo.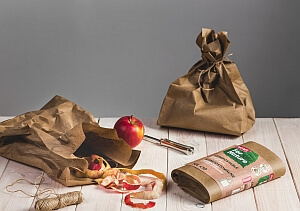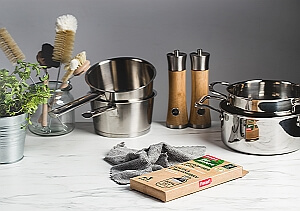 Commitment – this is what matters most if we want to have a "fair play" attitude to nature. Our For Nature range shows that you can take care of the environment without leaving your home – just by doing your daily activities. Let's get to work!